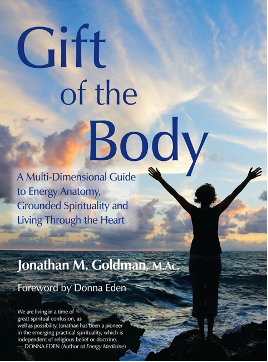 Jonathan Goldman Mar 30, 2021
The great sages for millennia have taught that the answers to healing, spiritual evolution, elevation of consciousness, and living a happy and fulfilled life are inside of us. But where exactly are they and how do you work with them?
Jonathan Goldman can answer those questions for you. In his four decades of working with Energy Medicine, first as an acupuncturist and then as the developer of Transformational Energy Healing, he has mapped the multi-layered Human Energy Vehicle (HEV).
Goldman has uniquely described where and how thought forms, emotions, energetic material, beliefs, and spiritual qualities live and operate in the multiple energy layers that are within and around the human body.
He is the author of
The Gift of the Body: A Multi-Dimensional Guide to Energy, Anatomy, Grounded Spirituality and Living Through the Heart
Meet Jonathan Goldman