Imagine you're an average person who enjoys animals and the world around you. Imagine you've never had the inkling to write anything, let alone a book. Then, imagine one day you hear a clear, distinct voice say, "The book is ready".
What would your next action be? Would you sit down and write, and what would you write? Imagine you receive dictation by way of emotions, visions, and pictures in your mind from a herd of horses. Imagine the horses provide you with an understanding of the world you never had before.
Helen Brennand, our guest today had a similar experience to the one I'm describing. She never dreamt she would write anything, but she heard a voice, and although she resisted for a time, the book is now published and titled Belief.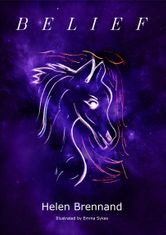 A dialogue with the horses she cared for needed to be "let out" Helen explains.
"It was a phenomenal time. The learning opened a new world to me. I felt blissful in a time of grief. They invited me to move out of my comfort zone into a new life."

Helen Brennand
Helen was experiencing stream-consciousness writing. It was instantaneously flowing from one thing to another. She wrote a couple pages a day. It was very healing and cathartic to her.
"It was like I was being set free."

Helen Brennand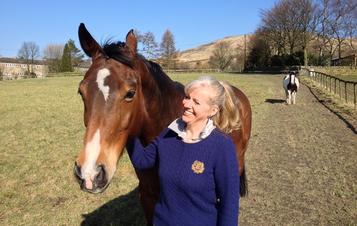 Helen was present with animals her whole life. She had rescued them, or helped them, when needed. She supported charities and took in a few horses who needed a home.
As Helen spent time observing the animals and using hands-on healing work, they began to communicate with her, offering understanding.
Helen herself lost a child and was just getting through each day. The horses took her into a deeper journey of love and understanding, which nurtured her, embraced her, and helped her see the joy within her grief.
"The horses carried me in a way that not even a close friend could have done. I surrendered to everything. They grabbed me, and I'm glad they did."

Helen Brennand
Every level of communication came through the horses in a methodical, clear way. The order of information "blew her away". She was amazed that animals were able to get her on the right track.
"I had to see myself as a worthy human being that had a role and place in this creation. When you receive unconditional love energetically from another being, there is no way to deny this real experience."

Helen Brennand
"When we tie ourselves or others down, we restrict our potential," Donna, the horse said to Helen.
I'm envious of Helen's great connection to her horses and other animals. You'll enjoy reading her book, Belief. Perhaps there is a book ready for you to write, and perhaps Helen's experience will lead you to know it's possible when you listen, love, and live with complete freedom to create.
A song has been written to raise money for the horses being affected by the wildfires in Australia. This is a link to listen to the song yourself: