"Only five to ten percent of people design their own life."

Sherry Stirling Fernandez
Our recent guest, Sherry Stirling Fernandez has written the book (literally) to help everyone design their own life. Her book is (no connection to our show) Life Mastery – Personal Progression Toward an Infinite Potential
"Life mastery is most easily defined by what life mastery isn't."

Sherry Stirling Fernandez
Sherry described what life mastery isn't as: feeling out of control, stressed out, spinning your wheels, and getting nowhere; mad at yourself for making bad choices, then making the same choices again, etc.
"It doesn't feel good to be out of control. It feels better to be the master of what you eat, your finances, your relationships, mindset, etcetera. Happiness is moving forward toward our infinite potential."

Sherry Stirling Fernandez
Sherry's book focuses on eight areas of Life Mastery, which is goal setting and habit-forming behaviors.
Physical
Spiritual
Relationships
Education
Motivation
Money
Lifestyle
Character
Everything she writes about is from personal experience and the result of her study of principles of success. Besides being an author, Sherry teaches personal development. She's a speaker and mentor.
Her family had nothing when Sherry was young. In that desperate situation she always wanted to be successful. She searched out methods and tools, and through trial and error has learned the secrets to life mastery. Sherry hopes her book will shorten the learning process for you.
"It feels big to try to get from here to there. Everything feels out of control, and we don't know where to start. Humans were not designed to grow in great big leaps. We create success in little steps every day."

Sherry Stirling Fernandez
Sherry mentions how the very act of starting something will begin to bring life into better focus. She's learned that good systems, good tools, and good instruction are key.
"It's who you are becoming that attracts success to you. It's a constant, confident walk toward what you want."

Sherry Stirling Fernandez
Sherry's book instructs the reader to start with simple habits you want to develop. She provides a tracking sheet as part of her system.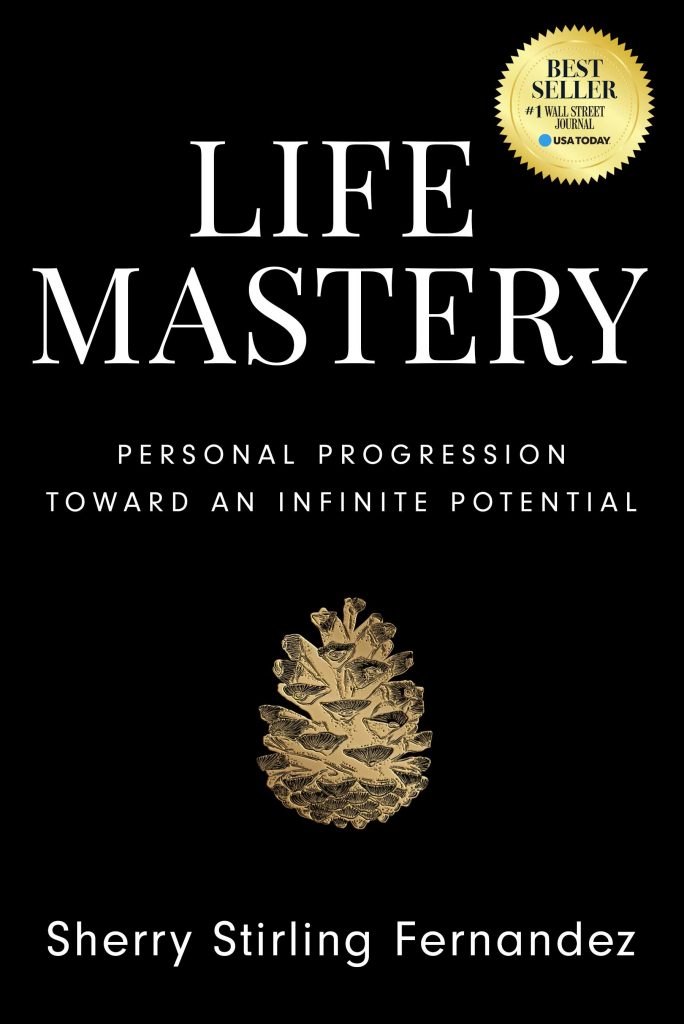 "You'll track your progress and be accountable to your list. It's the bomb for developing habits every day."

Sherry Stirling Fernandez
Sherry explained how actually checking off items completed every day keeps us motivated.
"You only have so much will power in a day. When you create a habit you don't have to depend on will power any longer."

Sherry Stirling Fernandez
Sherry calls herself a mentor rather than coach because her system teaches real skills. Sherry practices all the skills she preaches, and her clients know she has done exactly what she's asking them to do.
For instance, if someone comes to Sherry only wanting to grow wealth, she won't work with them. She feels ignoring the other 7 areas of life mastery would not bring them the desired outcome.
"Growing wealth means working on all 8 areas of life mastery. Work on all of you."

Sherry Stirling Fernandez
Sherry's book is three parts:
The Why – her story
The What – covers each of the 8 areas to set goals in and master
The How – includes the tracking sheet, written affirmations, and an assessment.
The tracking sheet is free on her website, and she promises results right away when you start using it.
"The key to a better community is a better you. The rest will take care of itself."

Sherry Stirling Fernandez
Well, then…are you headed toward the top 5-10 percent?