Listen to the show now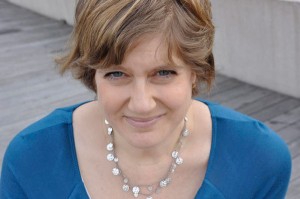 August 18th, 2015 – Show Synopsis:
Most people understand that their life is an unfolding story.
But few step out of their story to ask themselves who is writing the script, what the story is about, or what tools are needed to learn and grow.
Kim Schneiderman believes that is when we really suffer – when there's a storytelling deficit.
Turns out, our ability to envision ourselves as the lead character in our life's story is crucial to our well-being because how we tell the story adds meaning to our lives.
Her new book, Step Out of Your Story, Writing Exercises to Reframe and Transform you Life, is an intervention into our suffering and a tool that helps people see, thus experience their lives differently.
Schneiderman, in her work as a psychotherapist and workshop facilitator, has discovered that most people prefer "low impact" routines.
Meaning, though we're surrounded by challenging characters that could help us grown beyond our perceived limitations, our negative, underdeveloped stories prevent us from meeting that challenge.
Kim teaches that the antagonists in our lives are our personal trainers, helping us develop those flabby parts of ourselves that need more work.
Formal Bio:
Kim Schneiderman, LCSW, MSW, is a psychotherapist, workshop facilitator, former journalist, and spiritual essayist who lives and works in New York City.
Her new book, Step Out of Your Story, Writing Exercises to Reframe and Transform your Life, offers a story lens on life that help us see ourselves as ever-evolving characters growing through changes and challenges that show up in our narratives, which are works in progress.
As a writer, journalist, and therapist, Schneiderman believes our lives consist of stories that can be told in infinite ways. Every time we open our mouths, turn on our Ipads, or "put pen to paper," we make choices about how to tell a tale, about highs and lows, relationships and jobs, heartaches and joys.
To read her full bio, go here.
Kim's website here.
Listen to "Reframing Your Story with Kim Schneiderman 8/18/15" on Spreaker.