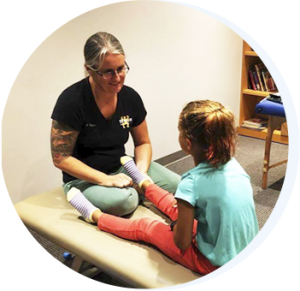 Todd has said many times, "I have three daughters and there was no handbook on raising them up." Where do you turn for advice when your child is experiencing chronic illness?  We found a masterful professional to offer a hand!
Dr. Thea Taylor owns her own chiropractor care business in Texas where she specializes in the health of our future — the kids!  As an athlete for the majority of her young and adult life, she understood the benefits early on of quality chiropractic care.  She acquired optimal performance levels for herself that lead to her winning the 1990 National Olympic Weightlifting Title!
Dr. Taylor is based in Houston and offers education to parents who are learning about their child's nervous system and the issues that arise:  ADD, ADHD, Asthma, ear infections and more. Chiropractic is a highly effective and non-pharmaceutical method to work with a child's nervous system.  When children have ill-behaving nervous systems, they end up with "an alphabet soup" full of diagnosis and mis-diagnosis.  Learn that kids have their own "gas pedal" and "break pedal" and without proper attention, a kid can red-line and fail to thrive.
Kids are her passion!  Learn more about Dr. Thea Taylor and follow her free webinars:  https://www.drtheataylor.com/
Listen to "Masterful Actions for Your Child's Health" on Spreaker.