Listen to the show now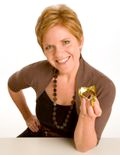 July 10 2012 Guest:  Michelle May, M.D., CSP, a physician and recovered yoyo dieter, delivers her compelling and timely message with passion, energy, humor and insight that transforms the way her audiences view weight management.
Michelle's interest and expertise stem from her personal struggle with chronic dieting and negative body image and her years of clinical experience with patients battling their weight and the consequences. First she resolved her own weight issues and now she shares a compelling, compassionate and constructive approach that empowers individuals to take charge of their lives.
Go to Michelle's website, take a quiz and download the first chapter of her book  "Eat What You Love Love What You Eat" You might even what to check out the opportunity in becoming a facilitator of her wonderful program. Click Here