Listen to the show now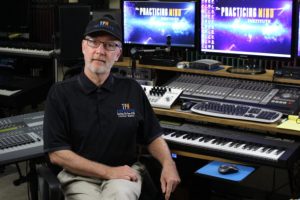 October 11, 2016 – Entrepreneur, Thomas Sterner, realized as a senior in high school that his mind wouldn't allow him to stay focus and finish the projects he started. Sound familiar?
That's when his practice, as well as his multifaceted careers – that allowed him to start, experience, and finish many things – began.
Now he's CEO of The Practicing Mind Institute and a popular speaker who's addressing our hyperactive culture and the benefits of mindfulness meditation.
In our exciting interview, we talked about practice, choice, and the power gained in becoming the objective observer.
Formal Bio:
Thomas M. Sterner is the founder and CEO of The Practicing Mind Institute. As a successful entrepreneur, he is considered an expert in Present Moment Functioning or PMF tm. He is a popular and in-demand speaker who works with high-performance individuals including, athletes, industry groups and individuals, helping them to operate effectively within high-stress situations so that they can break through to new levels of mastery.
As an expert Present Moment Functioning Coach, Thomas has brought clarity to thousands regarding how they can accomplish more with less effort, in the least amount of time and with greatly reduced stress. Top media outlets such as NPR, Fox News, and Forbes have sought his advice. He is the author of the best seller The Practicing Mind (New World Library 2012).
Prior to founding The Practicing Mind Institute he served as the Chief Concert Piano Technician for a major performing arts center preparing instruments for the most demanding performances. During his 25 year tenure as a high-level technician, he personally worked for industry giants such as Van Cliburn, Pavarotti, Andre Watts, Ray Charles, Fleetwood Mac, Bonnie Raitt, Tony Bennett, Wynton Marsalis and many more. An accomplished musician and composer he has also worked in the visual arts and as a recording studio engineer.
In his down time, Tom is an accomplished musician, private pilot, an avid sailor and proficient golfer. He lives in Wilmington Delaware and enjoys spending time with his two daughters and in his recording studio.
Website: http://www.thepracticingmind.com

Listen to "Fully Engaging with Thomas Sterner 10/11/16" on Spreaker.