Listen to the show now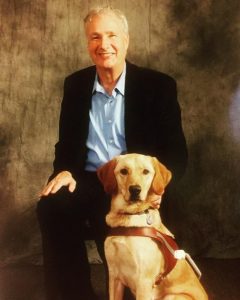 "Our accomplishments are not measured by our abilities or disabilities but rather by our willingness to try!"  This quote has anchored Clark Roberts in his life as he has journeyed through sight loss and emotional acuity.  He is the founder of the non-profit, Ultimate Vision, that inspires people of all ages who have endured a significant loss of sight to see in new ways.  Ultimate Vision continues to bring quality comprehensive programs to students in the following areas: Social & Emotional Learning (SEL), Diversity Awareness, Anti-Bullying, Virtues and other amazing programs customized to fit the needs of your students.
At age 24, Clark lost his sight to Retinitis Pigmentosa. This journey has allowed him to learn how one truly embraces life, a message of hope and encouragement that he shares with CEO's and young students as well as elders in the community.  He shows each person how to reach beyond their limitations inspiring them to live a life of significance. Clark has learned to celebrate differences, live his life to the fullest, and inspire others to do the same.
Clark is married with 2 children, is an author and enjoys story telling. He is an outdoor and sports enthusiast, who loves to downhill ski, tandem cycle, water ski, swim and hike.   http://www.clarkroberts.org/