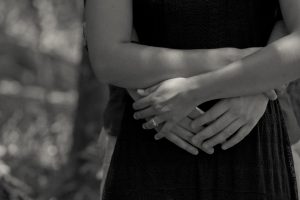 During my early years at the college, I shared an office with a man older than me who had two grown sons and a wife whom he loved and adored.  Our office was full of pictures of his family vacations, Christmas holidays, and wedding anniversaries.
One day during lunch, he asked if I would listen to him recite a poem that he had written to honor his wife and their upcoming anniversary.  "25 years!" He exclaimed with a broad, genuine smile.  I remember wondering at the time:  How do people do it?  What is the secret to a long and happy marriage?
And for whatever reason, I was moved to ask him, "So, what's the secret?  How did you get to 25 years of marriage."
He didn't miss a beat, "it's all her–she gets every bit of credit."
But I knew there was more.  "C'mon, give it up. I'm listening."
His mood shifted and he crunched his forehead the way he often did while reading bad handwriting. And after a moment, his smile returned.
He was very humble as he spoke, "Deb, I have worried that I would lose her ever since I found out she was carrying our first son. I've worried that something would happen to her or that she might get sick of me, and the result is that, every day, I live to know her. I just love her to death."
I was gushing with tears, of course. To this day, it is one of the most beautiful things I've ever heard about love. I remember what he was wearing, the sound of his voice, and the pen in his hand.  Especially, I remember the phrase, "I live to know her," as it seems to be the epitome of long-term partnership.  I really sensed his deep desire to continuously discover his wife and to share his true self with her.
I heard a reckoning choice, a decision to be vulnerable. It seems to be understood by both of them, and perhaps it has become part of their root system. They know that their partnership needs loving attention each day.
Anytime I have visited their home, I've noticed that they have several projects in the works that they are doing together, but they also talk about their individual interests.  They have built a magnificent garden together that has fed them as well as many of their neighbors over the years.  Between the two of them, they must own at least six bicycles and their home is filled with photos spanning a few decades of both coastal and cross-country excursions.
Still, she has time to make all things with yarn and he writes and publishes his poems simply for the fun of it.  Each possess their unique talents.
They both retired early and on the same day in 2014. Why? To be together.  It meant they have to live with a frugal consciousness and yet, every time I see them, I am convinced they are the happiest couple I know.  They're coming up on 40 years together, loving each other to death.