Listen to the show now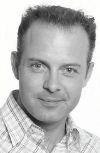 January 31st, 2010 Guest: Doug Vermeeren Join me in a fireside chat with Doug and his new movie "The Gratitude Experiment" among other topics that are sure to come up in our discussion like achievement, management, leadership, business, finance, relationships and health. Tune in at 10 am Tuesday January 31st on Contact Talk Radio, I guarantee you will get some great nuggets for you to Master your life.
Gratitude is considered on of the most powerful forces in the world. But can it really make a difference? Can it change your relationships? Your financial situation? Your health?
Some experts believe it can. But what does it really take to harness the power of gratitude? Will it make a difference in your own life? How have you been missing out on this hidden secret force? Find out in this captivating quest to unravel the mysterious power of Gratitude.
Doug's website www.douglasvermeeren.com