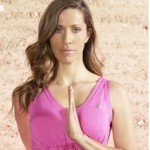 It was a delight to be joined by yoga master, Rainbaeu Mars, and her mother, Brigitte, a renowned herbalist and health specialist.  Rainbeau, based in Hollywood, CA., is clearly guided by her a supportive force as she began the interview with, "We are all born with the possibility of love…" Her long-time yoga practice and daily centering of her mind keeps Rainbeau in alignment. "Yoga means union…and alignment brings us home."
In the studio, Todd Alan took this in and sat tall before his microphone, rolling his head slowly from left to right and back again, and asked, "How much time do we need each day for yoga?"  Rainbeau didn't hesitate, flinch, or sugar-coat the facts. "You need an hour a day."  Wow!  An hour!  For many, this might sound like a huge commitment.
Well, yoga is a lifestyle, and our lives deserve our commitment, yes?  I sat in the studio and wanted to say, "You go, sister!"  I listened intently to learn about the disciplines from her own practice.  After all, this is a woman who has successfully led tens of thousands of clients along a holistic path.  "How you start your morning is how you'll treat yourself the rest of the day."  Sage wisdom.
Her mother, Brigitte joined the conversation and discussed the idea of introducing greens,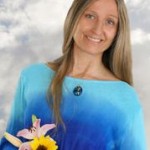 especially dandelion greens, into one's spring diet.  Both Brigitte and Rainbeau offered a genuine concern for the foods we select for our body, our "temple."  Listeners received an overview of Rainbeau's five secrets for a holistic life:
1.  Prayer and Gratitude.  Rainbeau suggests that you ask to receive guidance (from whatever source you access).
2.  Get on the mat!  If you only have 10 minutes, go through the chakras and meditate.
3.  Learn to cultivate "sexual magic" by allowing this energy to inspire you rather than confuse you.
4.  Practice Virtues.  Be aware and alert to the seven deadly sins.
5.  Dedicate your life to a higher purpose.  Raise your vibration!
Todd Alan inquired about the spring cleanse, a program to help anyone reset by moving the clutter of energy, chemicals, and habits away in a 21 day program.  Check out lifemasteryradio.net and select "events" to learn more about the spring cleanse offered by Rainbeau Mars.  And just for fun, get that yoga mat out of the closet and move with a feeling of gratitude.  Namaste.
Hypersmash.com