Listen to the show now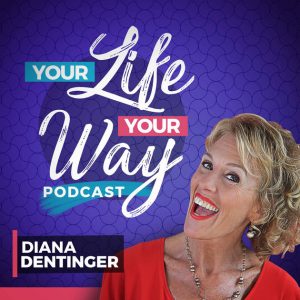 JOIN US  on January 2, 2018 as we jump into the new year with a very fun and  inspired coach, Diana Dentinger!
DIANA IS GOING TO LEAD YOU INTO THE NEW YEAR.  THIS IS YOUR LIFE, YOUR WAY!  Diana's coaching model supports you and guides you through a step-by steps process that energizes you from the very start!
Take this Leading Edge PERSONALITY QUIZ  http://bit.ly/YourPersonalityQuiz   WHAT'S IT LIKE TO BE YOU based on the lastest 21st Century Neurobiology so you find more happiness, health, success & overall life fulfillment.
Diana Dentinger is Creator of the Personality & Needs Profile – the easiest, most exact & effective tool to you know who you are and how to be more!
Are you FULL of things but you still feel EMPTY? Have you tried to figure out you life but can't seem to make it more meaningful? Do you feel overwhelmed with questions and doubts? How about REAL ANSWERS?
This PERSONALITY QUIZ is the best of the best of what you need to really up level your life. It's tried and true from my 25 years of experience as a Corporate Trainer & Neurobiology therapist. This first PERSONALITY QUIZ helps you connect to the core of who you are, what you love to do and how to be more of yourself.
You will finally get answers on how to create a great life, gain unshakeable self confidence, connect to your burning desires, fulfill your life purpose… all while living on your terms Your Way. SIGN UP NOW and JOIN THE GRAND GIVEAWAY FOR MORE PERSONALITY QUIZZES with real answers on how you LOVE your Way and the BEST CAREER FIT for your Personality.
FOLLOW DIANA DENTINGER
Your Life Your Way Podcast: http://yourlifeyourway.libsyn.com
iTUNES: https://itunes.apple.com/it/podcast/y…
DIANA DENTINGER BLOG: https://www.dianadentinger.com/blogs/…
FREE AUDIO BOOK: http://bit.ly/FREE-YOUR-LIFE
BOOK ON AMAZON http://bit.ly/amznModusVivendiYLYW
YOUTUBE: https://www.youtube.com/user/dianaden…
AMAZON AUTHOR: https://amazon.com/author/dianadentinger