Listen to the show now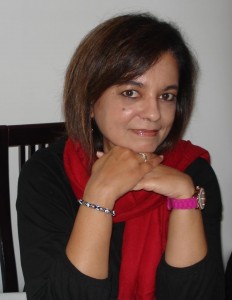 I learned a new acronym while reading Anita's book: NDE.  It stands for near-death experience.  Truthfully, I have met many individuals who can share their own story on the topic–how their bodies left the operating table or a traumatic car accident and was greeted in the after world only to find out it wasn't their time to go.  Anita's story, however, is one of transcendence from a sick body to a new paradigm of self-love.  She shares it with grace and an understanding that it might not align with everyone's beliefs.  Her story is about making a choice to heal and find happiness in this life time.
Early in the interview, Anita shared that the body "talks to us" when we fail to listen to our own feelings.  She claims that before cancer, "I was a people-pleaser…" and that her strategies to keep her environment calm did the trick–it kept people quiet pleased with her–but she was not happy, and she was not really hearing that her body was enduring her emotional suffering.
Lymphoma took Anita so deep into disease that on February 2, 2006, she left her body and crossed over to another dimension.  She says, "I could feel what everyone around me was feeling…" and that the experience of having cancer had left her–she was peaceful and pain-free, no longer part of this world.   She experienced "freedom and light!  I [had] never felt so good!" On the other side, she was greeted by her deceased father and dear friend. It was through the love of a conversation with them that she found she had a choice.  Her life actually had not ended, not permanently, as long as she made the choice to return as a new, healed Anita Moorjani.
Over the years I've come to believe that any type of grief in our body, whether it be physical or emotional, carries a message and even a desire to be healed and awakened.  Anita claims that her experience felt very much this way, but she was not aware of it during her treatments of cancer.  She talks about reconnecting with people after her near-death experience, "I felt that people had lost the ability to see the magic of life.  They didn't share my wonder or enthusiasm for my surroundings–and just being alive….they had forgotten how to just be in the moment."
The story must be heard from Anita.  Her book, the interview with Todd Alan, the PBS special with Wayne Dyer are all modes to connect you to her fascinating telling of her life that ended and was then given back to her.  Some would say it was a miracle.  I get the sense that Anita feels that miracle in every step she takes, every day, cancer-free, with an awakened sense of self-love.