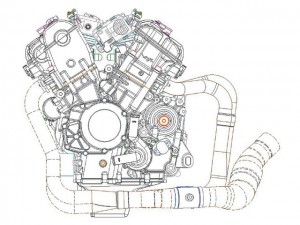 Every automobile has an engine and every engine has a part called a harmonic balancer. This little part counteracts the negative feedback created by all of the moving parts working in the engine. There are pistons pumping, connecting rods pushing, crankshafts heaving to open and close valves. All of this movement creates a vibration that is not in harmony with the engine as a whole. This is what's known as distortion or negative feedback. If it were not for the harmonic balancer, all of this negative feedback would amplify and the engine would literally vibrate itself to pieces. A similar situation occurs within us when dealing with the conscious and subconscious mind.
The conscious and subconscious mind are the parts of ourselves we want to bring into harmonic balance. Our subconscious mind is an incredible mass of tissue made up of billions of vibrating waves and propagating parts that control many things we don't have to consciously think about, while the conscious mind is the interface between our senses and the subconscious. But when I mention the subconscious, I don't just mean the parts of the brain that keep the heart beating and remind us to breath. There are also messages there in the subconscious. Most people have written messages to themselves or formed beliefs that they didn't create consciously; these beliefs were made and imbedded so deep in the mind that it really takes some effort and practice to find and rewrite them.
Ever been to a seminar or been introduced to a new business idea that you got all buzzed up about? We might say that we set up a high vibration about it – our senses had absorbed all this cool information, thus the conscious mind was ready to go. It began to really resonate with the new ideas! Then, after some time passed, all the vibrating and motion had stopped in the conscious mind. The buzz was gone. Why? Because our programmed set of beliefs about this new idea had not been edited; the motivation fell apart and we could not take action and move forward. The subconscious did not have the harmony or belief to match the vibration of the conscious mind, so harmonic balance was not achieved. Negative feedback was generated and failure was the result. It's typical and we've all been there.
Harmonic balance creates a resonant frequency or vibration between the subconscious and conscious, thus producing your truth.  It allows you to stand in authority with your goal or idea. This harmonic balance can be achieved with lots of important self work and is accelerated with the help of a healer, coach, or mastermind group. I'll talk more about techniques for aligning the subconscious and conscious mind in my next post.
For now, make it a great day, its a choice. ~ Todd